Logistics NEWS
Suez Canal achieves a new daily traffic record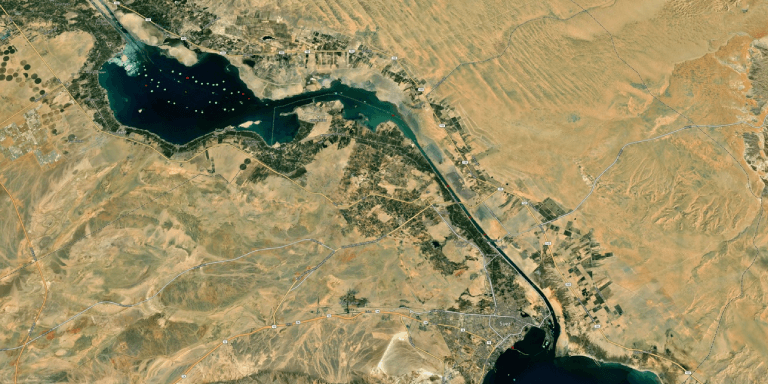 Oct 9, 2021
Source: fleetmon.com
Osama Rabie, the Chairman of the Suez Canal Authority announced that the Suez Canal has set a new record for the highest number of ships transiting in a day. On 29th September 2021, a total of 87 vessels made transit through this strategic canal, leaving behind the previous high of 75 that was achieved on 6th February 2019. Talking in terms of dead weight, the canal witnessed a total tonnage of 4.8 million DWT crossing the waterway in both directions which comprised 49 vessels moving from South and 38 vessels from North. Breaking down the numbers, it was stated that a total of 26 bulk carriers, 18 large oil tankers, 18 container vessels, 10 gas carriers, and 15 other types of ships traversed the waterway on 29th Sep.
Free ONLINE Shipping Quotes
Try Globalship.io, and get a free shipping quote directly to your inbox
This is big news for the Suez Canal Authority (SCA) and it validates SCA's desire to accelerate the expansion plans of the canal. SCA has achieved this feat in less than six months since the infamous incident of EVER GIVEN, the mega container ship that went aground and blocked the canal for around a week. With the completion of the $10 billion expansion project that involves the deepening and widening of the southern part of the canal, it is said that the canal will be handling as many as 97 vessels per day. Once completed, the expansion project would double the annual revenue of the canal to $13 billion.
This strategic maritime passage is a national treasure for Egypt that generated approximately $5.6 billion in 2020, and this year till August, the canal has earned $3.8 billion. Happening to be one of the busiest waterways around the world, the canal sees 12% of the world trade volume passing through it.
---
---

Global Ship LTD, a registered company in IT Services, Online Shipping & Related Services.

Global Ship Limited
Company No. 13640919
Made in the UK
Global Ship LTD cover & supply shipping price comparison for the Arab World, which consists of 22 countries in the Middle East and North Africa: Lebanon, Algeria, Bahrain, the Comoros Islands, Djibouti, Egypt, Iraq, Jordan, Kuwait, Libya, Morocco, Mauritania, Oman, Palestine, Qatar, Saudi Arabia, Somalia, Sudan, Syria, Tunisia, the United Arab Emirates and Yemen.